Duct Cleaning in Maryland MD done right!
Breathe easier with the best duct cleaning in Maryland MD!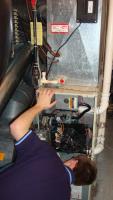 Dirt, mold, bugs, mites, and other "stuff" are all living in your duct system. We can get rid of it all with our Total Source Removal cleaning process. You will be able to see for yourself all of the dirt and debris that we remove from your duct system.
Call Belair Engineering today for more information at 301-249-0300 or 410-451-4822