MD standby generator installation. Maryland home standby backup generator experts!
Standby generator installation in MD made easy!
"Your MD Emergency Standby Generator Headquarters"
888-823-5247 • 410.451.4822 • 301-249-0300
Schedule your standby generator installation or repair service call.
Emergency standby backup home generator installation from Belair Engineering.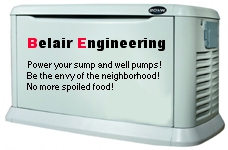 Your standby backup residential home generator allows you to take charge of any situation & make your own electrical power automatically when your utility power is disrupted. Your standby generator provides you with the power needed to carry on!
It's like having your own personal back up generator power plant with an intelligent system that automatically senses your utility power disruption & turns itself on the moment it's needed. Connected to environmentally friendly, low cost fuels like natural gas or propane, your Md standby backup generator operates using a safe & continuous fuel supply.
That way, whether you're home or away when your power goes out, you can rest assured that your family & possessions will be safe & secure. Belair Engineering installs & services backup standby home generators in Annapolis Maryland & your surrounding communities.
Call today for your best Md standby backup generator installation contractors. Maryland standby generator problems solved!
Emergency standby generator power when you need it the most!
Electrical power is your most utilized part of any home. We depend on it so much & take it for granted the majority of the time. As our Md homes get bigger & technology becomes more sophisticated, you rely on your electricity more than ever.
When your power goes out, you lose more than just your lights & all your food in your fridge. You lose your heating & air conditioning systems, security systems, computer equipment, stereo components, televisions, water or sump pumps & home health care equipment.
In fact, your average American home will experience a power outage of at least nine hours each year. While many of your outages are caused by thunderstorms, hurricanes & tornados, an increasing percentage are due simply to the aging infrastructure of America's power grid.

Due to higher demand & the aging of our power system your frequency for rolling black outs are increasing. So what's your best way of protecting you & your family from the frustration of prolonged power outages? The answer is an emergency standby home generator installed by Belair Engineering.
As emergency standby backup generators for home use are fairly new to the market place, it's imperative that consumers receive knowledgeable & accurate information from a qualified & reputable Md company like Belair Engineering.
Intensive training for generators is very rare. Your on-staff installers have been factory trained as well as being fully licensed, bonded & insured. We pull all your required Maryland permits, call Miss Utility and we're also present for your inspections, making sure that your new Md backup emergency standby generator is installed by-the-book.
Below are a few pictures we took of the 3 day "Top Gun" like standby generator classes your installers & technicians attended at The Training Headquarters in Syracuse, NY.
From left to right; The Education & Factory Training Center Headquarters. Center picture, measuring incoming gas pressures with a manometer. Knee deep in standby generator repairs & flow chart trouble shooting.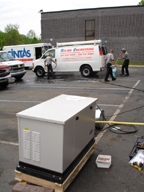 The purchase & proper sizing of your Maryland backup emergency standby generator can be confusing. There are many issues & requirements that you must consider, most importantly whom do I trust to install my new standby generator?

We install the best Md standby generators that have received the best reviews & manufacturer ratings at your best prices.
Your installer will advise you about up-grading your gas meter, pre-selecting circuits & a host of other problems that need to be addressed prior to your investment & installation of your Md emergency backup standby home generator.
If you'd like, please visit our showroom so you can hear your MD emergency residential backup standby generator running. We also provide annual service for your Md generator to maintain your manufacturer's warranties & your peace-of-mind.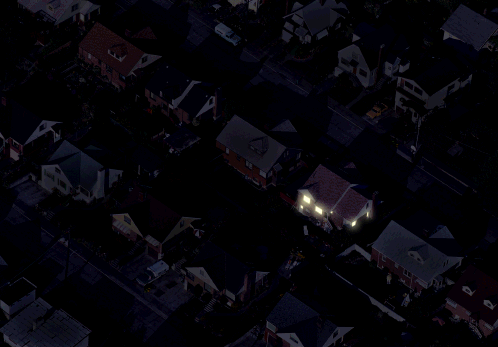 Call or email today, to schedule your FREE site survey with one of our factory trained generator installers who will conduct a professional electrical load analysis and site inspection for your Maryland home.
301.249.0300 • 410.451.HVAC • 1.888.8BELAIR
Don't be left out in the dark, call Belair Engineering Today!
Home | Furnaces | Gas Logs | Services | Special Offer | Plumbing | Thermostats | Humidifiers |
Air Cleaners | What's New
---
FYI BEWARE!!! Many local, small & large so-called reputable contractors are NOT pulling your required permits & getting the mandatory inspections completed on the Md standby generators they install!
Here is what I would want to know if I was considering a new Md standby generator installation in MD. First, it takes a lot of time, money, staff, paperwork, expertise & licensing to go through the permitting, rough-in & final inspection processes of the various jurisdictions.
Do I need a MD permit & inspection for my new Maryland standby generator installation?
In most cases YES! You WILL need permits & inspections for your new Maryland standby generator installation.
Click this text to see what the Anne Arundel County Permits Office says!
Click here if you live in Prince George's County.
What could happen if your MD standby generator contractor does not pull all your required permits & even more importantly does not have all the work inspected & passed?
If problems with your home should arise requiring you to file a home owner's insurance claim due to your illegal standby generator installation your home owner's insurance can deny all your insurance claims!
If you try to sell your home in the future you will probably need to pay to get the illegal generator installation permitted & inspected to the current codes. This always costs you more money & problems!
Belair Engineering pulls all of your required Maryland installation permits and will pass/stand all of your required rough-in and final inspections!
Md Maryland standby generators & Md Maryland house backup standby generator installation repair, replacement & repair service is available for your following Maryland Md Cities, Counties, zip codes & manufacturers; Generac Generators, Kohler Generators, Briggs & Stratton Generators, Generac, Gaurdian Generators, Honeywell Generators, Ruud, Rheem Standby Generators, Annapolis, Arnold, Aquasco, Baden, Benzley, Beltsville, Bowie, Brandywine, Camp Springs, Chesapeake Beach, Cheltenham, Churchville, Churchton, Clinton, College Park, Crofton, Croom, Crownsville, Davidsonville, Deale, Dunkirk, Edgewater, Forestville, Fort Washington, Galesville, Gambrills, Glendale, Glenn Dale, Glen Burnie, Greenbelt, Harmans, Harwood, Huntingtown, Landover, Land Tree, Lanham, Lanham Seabrook, Largo, Laurel, Lothian, Mayo, Millersville, Mitchellville, Morningside, Naylor, New Carrollton, North Beach, Odenton, Owensville, Owings, Pasadena, Prince Frederick, Riva, Riva Trace, Riverdale, Shadyside, Sunrise Hills, Tracy's Landing, Seabrook, Severn, Severna Park, Springdale, Sunrise Hills, Upper Marlboro, Wayson's Corner, Waldorf, West River, Woodyard, Woodmore, Anne Arundel County & Prince George's County AA & PG County MD