888.823.5247 • 410.451.4822 • 301.249.0300
Air conditioning & heating system repair service in Maryland!
Reliable. Trusted. Guaranteed.

That's how you'd describe our family of heating & air conditioning services here at Belair Engineering.
For 56 years, your Maryland friends & neighbors have counted on our no-nonsense approach to servicing all your Md heating & cooling, gas fireplace, standby generator & plumbing problems.
We provide you authorized warranty service for any Carrier & Goodman furnace & heating heat pump systems. We also provide you with post warranty service on most any furnace & heat pump in Maryland.
Our service fleet utilizes the latest diagnostic technologies to quickly and efficiently determine the nature of your service problems. Your HVAC technicians are fully trained and factory certified.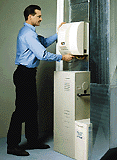 For your emergency and after hours service, we're available to you 24 hours a day by calling 301-262-4199.
Established in 1962, Belair Engineering is celebrating 56 years of providing our clients with your best in commercial & residential Maryland heating & cooling services.
We furnish your necessary equipment, obtain your proper permits, design, fabricate and install the following:
Air Conditioners, heat pumps, air handlers, gas furnaces, hot water heaters, humidifiers, air purification filters, plumbing & gas fitting service, gas fireplace logs and total gas conversions.
Your service agreement has always been one of the pillars of our success. We recommend you get your spring and fall tune-up and servicing every year. (use our cyber coupon)
Belair Engineering has retained 7,500 service agreements over our 56 year history. Customers have continued their trust in our company's workmanship and reliability.
Recently Belair Engineering was awarded The Prince George's County "Small Business Of The Year" as presented by The Prince George's County Board of Trade.
Belair Engineering is a woman owned and managed Md Maryland heating & air conditioning, gas fireplace, standby generator & plumbing company.
You can depend on Belair Engineering to help you stay cool in the heat, warm in the cold and comfortable every day in between.
"For Your Best in Heating & Air Call Belair"
301.249.0300 • 410.451.4822 • info@BelairEngineering.com
Expert Md heating & air conditioning repair service & replacement installation!
Home | Furnaces | Gas Fireplaces | Generators | Services | Special Offer Plumbing | Thermostats | Humidifiers | Air Cleaners | What's New
MD HEATING & AIR CONDITIONING REPAIR SERVICE IN MARYLAND.