Maryland heat pump repair service. Heat pump & AC contractors in MD.

1-888-823-5247
or
410-451-4822
or
301-249-0300
Your best heat pump repair service & heat pump replacement installation in MD @ excellent prices.
Maryland heat pump & AC repair service made easy!
Need a Hassle-FREE heat pump replacement installation or AC contractors in Maryland?
Call Belair Engineering for your best heat pump installation or replacement in Md at your lowest costs.
Belair Engineering provides your best Md heat pump that has received the best heat pump ratings & reviews at the lowest possible prices in Maryland! We provide heat pump repair service for the following cities; Annapolis, Crofton, Crownsville, Davidsonville, Gambrills, Odenton, Waldorf & the surrounding service areas.
What is a heat pump? Your Md heat pump heats & cools your home all year long. In the summer time your heat pump transfers undesirable heat from inside your home and moves it outside. During the heating season your heat pump takes heat that is in the air outside & transfers that desired heat into your home.
Most MD heat pumps use a reversing valve that reverses the refrigerent flow cycle & that's how your Md heat pump can heat & cool your Maryland home all year round. We repair & service the following types of heat pump products; Trane heat pump, Carrier heat pump, Mitsubishi heat pump, mini split heat pump, Goodman heat pump, York heat pump & many other types of heat pumps in Maryland.
FYI BEWARE!!! Many local, small & large so-called reputable MD heat pump contractors are NOT pulling permits or getting the required inspections done on the Md heat pumps they install! Here is what I would want to know if I needed a new MD heat pump replacement or installation.
Do I need a Maryland permit & inspection for my heat pump installation or replacement in Md? In most cases yes! You do need a permit & inspection for your new Maryland heat pump installation or Md heat pump replacement. Click this text to see what AA County has to say! If you live in PG County Click this text.
What could happen if your MD heat pump contractors or installers do not pull your required Md heat pump permits & even more importantly do not have your heat pump installation or replacement inspected & passed? If a problem with your home should arise requiring a home owner's insurance claim due to your illegally installed MD heat pump, your home owner's insurance can deny your insurance claims!
Belair Engineering will pull all your required Md heat pump permits & inspections!
Is your heat pump contractor going to use accepted, industry best practices during your heat pump installation.
This will help insure a long happy life from your new heat pump system while protecting your investment?
A clean installation is crucial to your Md heat pumps life cycle. I often use the analogy of a spray paint can or spray starch nozzle when talking about how your new Maryland heat pump meters out your refrigerant.<
A heat pump, TXV or EEV expansion valve; (that's a Thermal Expansion Valve or Electronic Expansion Valve) is analogous to a spray can nozzle. If your expansion valve gets clogged up, your heat pump will be in trouble & stop working! BTW... Your Md heat pump will probably stop working on the coldest or hottest day of the year when you need it the most & you have house guests staying over!
Here are just a few examples of industry best practices that Belair Engineering employs on all our Md heat pump installations & repair services; We always use low level nitrogen to displace the oxygen when brazing copper tubes or line sets. This is critical for protecting your expansion valves from slag and debris caused by oxidation during the brazing process that will clog the expansion valves up! Also it's very important to protect the expansion valves from the intense heat during the brazing process.
A lot of Md heat pump contractors are just quoting cheap prices and not doing the required steps or worse, they don't know the required procedures needed to insure your that Md heat pump is installed and/or repaired correctly resulting in a long happy heat pump system life.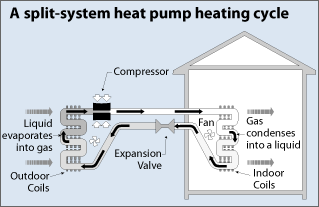 Also pulling a vacuum on your Maryland heat pump down to 500 microns is needed anytime a refrigerant system is opened or exposed to air, moisture or other impurities. These impurities can mix with the oil & refrigerant in your heat pump & cause acid to form that degrades the components of your Md heat pump system causing premature failure.
This moisture can freeze into ice & stop your heat pumps vital refrigerant flow. Pulling a heat pump down to 500 microns will help clean the heat pump system & also ensure that there are NO leaks in your new Maryland heat pump system.
Old R-22 or Freon system heat pumps used a mineral oil mixed in with the refrigerant. New R-410A or Puron heat pump systems use a synthetic oil and these different types of refrigerant oils do not work well together. It's imperative to clean out as much of the oil as possible from any existing line sets or better yet replace the line sets (copper tubes) with new shiny copper line sets.
When Belair Engineering installs a heat pump in a Maryland home's attic we make sure that proper heat pump safety switches are installed to help limit the chances of the ceiling from getting wet and causing problems. There is a huge difference in how well new heat pumps operate and provide you comfort than the old heat pumps did from just a few years ago.
New heat pumps are able to provide 100+ degree air at the register when it gets down to 20 cold degrees outside!
Your new MD heat pumps are also able to mix the air in your home much better than your old Md heat pump, remove more humidity in the summer time and save you BIG money all year long! I hear my friends & clients tell me all the time, that they are now saving about half the cost of what they used to pay on their monthly bills and that they just love their new Md heat pump!
Call Belair Engineering today & start enjoying real MD heat pump cost savings & cozy warm comfort!
1-888-823-5247

or

410-451-4822

or

301-249-0300

MD heat pump repair service, installation & replacement heat pump HVAC contractors serving Maryland. Expert MD heat pump repair service at low prices. The best MD heat pumps with the best heat pump ratings & reviews at your best prices. A woman owned & managed company. Est. 1962

Thank you for visiting our Maryland heat pump web page. We value your business!